Natural

Arthritis Knee Pain

Therapy

We help people like you who are suffering from painful knee arthritis.
Free yourself from pain in an effective, easy and safe manner using Prolozone.
Call us today for an appointment.
Orthopedic Research regarding Regenerative Injection Therapies
References:
Mazor M, Lespessailles E, Coursier R, et al. Mesenchymal stem-cell potential in cartilage repair: an update. J Cell Mol Med. 2014 Oct 29. doi: 10.1111/jcmm.12378.
Diekman BO, Guilak F. Stem cell-based therapies for osteoarthritis: challenges and opportunities. Curr Opin Rheumatol. 2013 Jan;25(1):119-26. doi: 10.1097/BOR.0b013e32835aa28d.
Davatchi F, Abdollahi BS, Mohyeddin M, Shahram F, Nikbin B. Mesenchymal stem cell therapy for knee osteoarthritis. Preliminary report of four patients. Int J Rheum Dis. 2011 May;14(2):211-5. doi: 10.1111/j.1756-185X.2011.01599.x. Epub 2011
Mishra A, Tummala P, King A, Lee B, Kraus M, Tse V, Jacobs CR. Buffered platelet-rich plasma enhances mesenchymal stem cell proliferation and chondrogenic differentiation. 2009 Sep;15(3):431-5.
Kasten P, Vogel J, Beyen I, Weiss S, Niemeyer P, Leo A, Lüginbuhl R. Effect of platelet-rich plasma on the in vitro proliferation and osteogenic differentiation of human mesenchymal stem cells on distinct calcium phosphate scaffolds: the specific surface area makes a difference. J Biomater Appl. 2008 Sep;23(2):169-88. Epub 2008 Jul 16.
Ellingson AM, Shaw MN, Giambini H, An KN. Comparative role of disc degeneration and ligament failure on functional mechanics of the lumbar spine. Comput Methods Biomech Biomed Engin. 2015 Sep 24:1-10. [Epub ahead of print]
Iorio JA, Jakoi AM, Singla A. Biomechanics of Degenerative Spinal Asian Spine J. 2016 Apr;10(2):377-84. doi: 10.4184/asj.2016.10.2.377. Epub 2016 Apr 15. Review.
Butt AM, Gill C, Demerdash A, Watanabe K, Loukas M, Rozzelle CJ, Tubbs RS. A comprehensive review of the sub-axial ligaments of the vertebral column: part I anatomy and function. Childs Nerv Syst. 2015 May 1. [Epub ahead of print]
Von Forell GA, Stephens TK, Samartzis D, Bowden AE. Low back pain: A biomechanical rationale based on "patterns" of disc degeneration. Spine (Phila Pa 1976). 2015 May 20. [Epub ahead of print]
Li Z, Peroglio M, Alini M, Grad S. Potential and Limitations of Intervertebral Disc Endogenous Repair. Curr Stem Cell Res Ther. 2015 Mar 4.
Wang Z, Perez-Terzic CM, Smith J, et al. Efficacy of intervertebral disc regeneration with stem cells – A systematic review and meta-analysis of animal controlled trials. Gene. 2015 Jun 10;564(1):1-8. doi: 10.1016/j.gene.2015.03.022. Epub 2015 Mar 19.
Tibiletti M1, Kregar Velikonja N, Urban JP, Fairbank JC. Disc cell therapies: critical issues. Eur Spine J. 2014 Jun;23 Suppl 3:S375-84. doi: 10.1007/s00586-014-3177-2. Epub 2014 Feb 8.
Krock E, Rosenzweig DH, Haglund L. The Inflammatory Milieu of the Degenerate Disc: is Mesenchymal Stem Cell-Based Therapy for Intervertebral Disc Repair a Feasible Approach? Curr Stem Cell Res Ther. 2015 Feb 11. [Epub ahead of print]
Handley C, Goldschlager T, Oehme D, Ghosh P, Jenkin G. Mesenchymal stem cell tracking in the intervertebral disc. World J Stem Cells. 2015 Jan 26;7(1):65-74. doi: 10.4252/wjsc.v7.i1.65.
Pettine KA, Murphy MB, Suzuki RK, Sand TT. Percutaneous injection of autologous bone marrow concentrate cells significantly reduces lumbar discogenic pain through 12 months. Stem Cells. 2014 Sep 3. doi: 10.1002/stem.1845. [Epub ahead of print]
Yim RL, Lee JT, Bow CH, Meij B, Leung V, Cheung KM, Vavken P, Samartzis D. A systematic review of the safety and efficacy of mesenchymal stem cells for disc degeneration: insights and future directions for regenerative therapeutics. Stem Cells Dev. 2014 Nov 1;23(21):2553-67. doi: 10.1089/scd.2014.0203. Epub 2014 Sep 11.
Hauser RA The Deterioration of Articular Cartilage in Osteoarthritis by Corticosteroid Injections Journal of Prolotherapy. 2009;1(2):107-123.
Wyles CC, Houdek MT, Wyles SP, et al. Differential cytotoxicity of corticosteroids on human mesenchymal stem cells. Clin Orthop Relat Res. 2015 Mar;473(3):1155-64. doi: 10.1007/s11999-014-3925-y. Epub 2014 Sep 4.
Seshadri V, Coyle CH, Chu CR. Lidocaine potentiates the chondrotoxicity of methylprednisolone. J Arthr and Related Surg. 2009 Apr; 25(4): 337-347.
Hirsch G, Kitas G, Klocke R. Intra-articular corticosteroid injection in osteoarthritis of the knee and hip: factors predicting pain relief–a systematic review. Semin Arthritis Rheum. 2013 Apr;42(5):451-73. doi: 10.1016/j.semarthrit.2012.08.005. Epub 2013 Jan 29.
Hepper CT, Halvorson JJ, Duncan ST, Gregory AJ, Dunn WR, Spindler KP. The efficacy and duration of intra-articular corticosteroid injection for knee osteoarthritis: a systematic review of level I studies. J Am Acad Orthop Surg. 2009 Oct;17(10):638-46.
Sofat N. Kuttapitiya A. Future directions for the management of pain in osteoarthritis. Int J Rheumatol. Apr 2014; 9(2): 197–276.
Corticosteroid injections for osteoarthritis of the knee: meta-analysis. BMJ 2004; 328:869.
Sweetnam R. Corticosteroid arthropathy and tendon rupture. Journal of Bone and Joint Surgery. 1969: 397-398.
Ravi B, Escott BG, Wasserstein D, Croxford R, Hollands S, Paterson JM, Kreder HJ, Hawker GA. Intraarticular hip injection and early revision surgery following total hip arthroplasty: a retrospective cohort study. Arthritis Rheumatol. 2015 Jan;67(1):162-8. doi: 10.1002/art.38886
Siengdee P, Radeerom T, Kuanoon S, Euppayo T, Pradit W, Chomdej S, Ongchai S, Nganvongpanit K. Effects of corticosteroids and their combinations with hyaluronanon on the biochemical properties of porcine cartilage explants. BMC Vet Res. 2015 Dec 4;11(1):298. doi: 10.1186/s12917-015-0611-6.
Massy-Westropp N, Simmonds S, Caragianis S, Potter A. Autologous blood injection and wrist immobilisation for chronic lateral epicondylitis. Adv Orthop. 2012;2012:387829. doi: 10.1155/2012/387829. Epub 2012 Dec 4.
Khaliq A, Khan I, Inam M, Saeed M, Khan H, Iqbal MJ. Effectiveness of platelets rich plasma versus corticosteroids in lateral epicondylitis. J Pak Med Assoc. 2015 Nov;65(11 Suppl 3):S100-4.
Yadav R, Kothari SY, Borah D.  Comparison of Local Injection of Platelet Rich Plasma and Corticosteroids in the Treatment of Lateral Epicondylitis of Humerus. J Clin Diagn Res. 2015 Jul;9(7):RC05-7. doi: 10.7860/JCDR/2015/14087.6213. Epub 2015 Jul 1.
Arirachakaran A, Sukthuayat A, Sisayanarane T, Laoratanavoraphong S, Kanchanatawan W, Kongtharvonskul J. Platelet-rich plasma versus autologous blood versus steroid injection in lateral epicondylitis: systematic review and network meta-analysis. J Orthop Traumatol. 2015 Sep 11. [Epub ahead of print]
von Wehren L, Blanke F, Todorov A, Heisterbach P, Sailer J, Majewski M. The effect of subacromial injections of autologous conditioned plasma versus cortisonefor the treatment of symptomatic partial rotator cuff tears. Knee Surg Sports Traumatol Arthrosc. 2015 May 28. [Epub ahead of print
Gosens T, Den Oudsten BL, Fievez E, van 't Spijker P, Fievez A. Pain and activity levels before and after platelet-rich plasma injection treatment of patellar tendinopathy: a prospective cohort study and the influence of previous treatments. Int Orthop. 2012 Sep;36(9):1941-6. doi: 10.1007/s00264-012-1540-7. Epub 2012 Apr 27
Cornwell KG, Landsman A, James KS. Extracellular matrix biomaterials for soft tissue repair. Clin Podiatr Med Surg. 2009;26(4):507–523.
Jo CH1, Lee YG, Shin WH, Kim H, Chai JW, Jeong EC, Kim JE, Shim H, Shin JS, Shin IS, Ra JC, Oh S, Yoon KS. Intra-articular injection of mesenchymal stem cells for the treatment of osteoarthritis of the knee: a proof-of-concept clinical trial. Stem Cells. 2014 May;32(5):1254-66. doi: 10.1002/stem.1634.
Saw KY1, Anz A, Siew-Yoke Jee C, Merican S, Ching-Soong Ng R, Roohi SA, Ragavanaidu K. Articular cartilage regeneration with autologous peripheral blood stem cells versus hyaluronic acid: a randomized controlled trial. Arthroscopy. 2013 Apr;29(4):684-94. doi: 10.1016/j.arthro.2012.12.008. Epub 2013 Feb 4.
Centeno CJ1, Busse D, Kisiday J, Keohan C, Freeman M, Karli D. Increased knee cartilage volume in degenerative joint disease using percutaneously implanted, autologous mesenchymal stem cells. Pain Physician. 2008 May-Jun;11(3):343-53.
Centeno CJ1, Kisiday J, Freeman M, Schultz JR. Partial regeneration of the human hip via autologous bone marrow nucleated cell transfer: A case study. Pain Physician. 2006 Jul;9(3):253-6.
Gerber HP, et al. (1999). VEGF couples hypertrophic cartilage remodeling, ossification and angiogenesis during endochondral bone formation. Nat Med.5(6):623-8.
Best place for Prolozone in LA. Been coming for the past 6 months. Very reasonably priced, great service, and knowledgeable medical staff…. — Alex
Testimonial by a woman with knee pain who received one Prolozone treatment from Dr. Yoshi Rahm and is no longer experiencing any pain.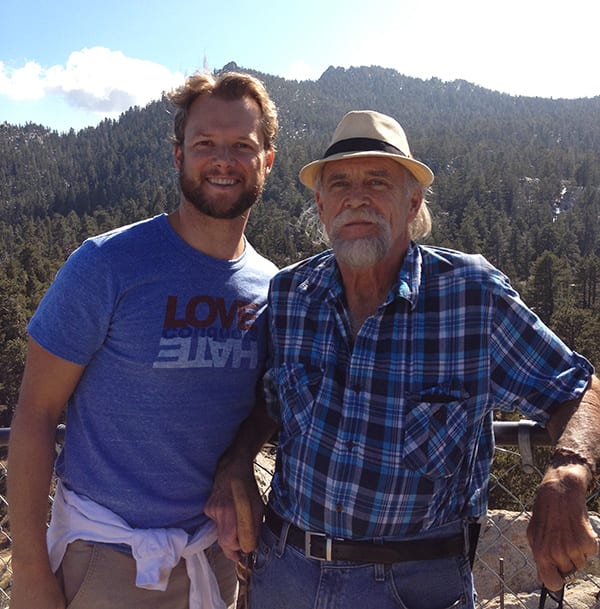 "I have severe arthritis pain in my left knee that was getting progressively worse due to having almost no cartilage in the knee. Immediately after a Prolozone injection, the pain level drops from about a 9 out of 10 to less than a 1 on the pain scale." –Clark
"Clark is my dad and he is the reason I learned about Prolozone because I couldn't bear to watch him in so much pain. I'm just grateful to be able to dramatically help him and I'm excited to share this amazing treatment with you." – Dr. Yoshi Rahm
We help people like you who are suffering from painful knee arthritis free yourself from pain in an effective, easy and safe manner using prolozone to reclaim the activities you love like exercising and playing with your children and grandchildren.
Oasis Family Medicine, Inc.
3541 Ocean View Blvd
Glendale, California 91208
Phone (818) 957-6909
Fax (888) 584-9315
dryoshi.com
© 2019 Oasis Family Medicine, Inc.